Nothing can beat October baseball played out like the Phillies did against the Dodgers last night. The game had all sorts of ups and downs, but it ended with classic October fireworks provided by the most unlikely of villains, the small, talkative, speedy and friendly Shane Victorino and Matt Stairs, a free agent the Phillies picked up out of the Toronto Blue Jay's discard bin for the purpose of providing a lefty home-run hitting bat.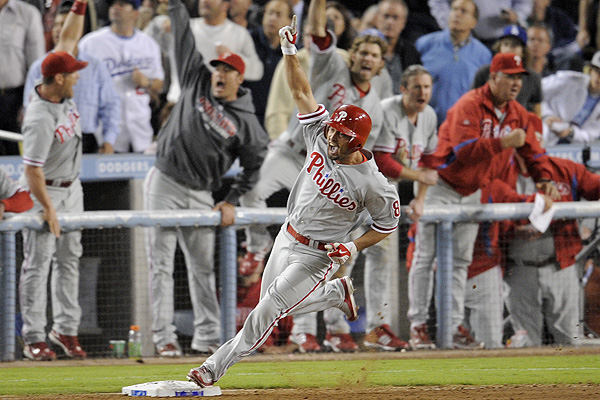 It was one hell of a game, and if you are interested in reading more, I highly recommend
Phil Sheridan's write-up of why Victorino is such an unlikely villain
and
Jayson Stark's rundown that references my hometown in the 'burbs of Philly
:
Yeah, Stairs hit it, all right. He hit it so high and so far to deep right field that at first, said Howard, "I thought it was going to leave the park and hit the roof." Instead, it "only" came down two-thirds of the way up the right-field pavilion -- a mammoth blast in this park. And as that baseball finally settled into those far-away seats, folks from Chavez Ravine to Cheltenham needed a moment -- or maybe an eternity -- to make sense of what they'd all just witnessed.
That's right,
Cheltenham, PA is a wonderful little suburb right outside Philly
, a place that I'm sure 98% of people who read this write-up of the game do not know. It's also where my family lived starting back in 1982, and the town my mother still calls home! Why Stark chose Cheltenham to shout out... I'm not sure, but thanks to Matt for pointing this out, and thanks to Stark for the love. The 'ham appreciates it!