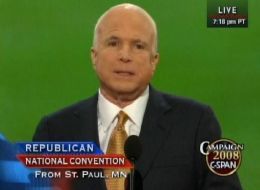 Many have said that John McCain took the experience issue off the table in this year's election by choosing Sarah Palin to be his running mate. Was he on a bit of a spree with taking issues off the table this week? Perhaps!
HuffPo documented the fact that on his big night, at his big speech, in front of his big ole lime green screen Mr. McCain was not fulfilling on of his sacred duties as a God-fearing, red meat-loving, apple pie-eating 'Country First' son of freedom, liberty, and democracy
. No Idea what I'm talking about? Well, it turns out, John McCain wore no flag pin to his speech last night. Oops! Why does he hate America so much? Sorry, this is really a pretty goofy post, but I couldn't resist. Cheers everyone to the death of non-issues (or my wish for them to fade away)!!!